I'm now listening to two books.  One is Flight Behavior by Barbara Kingsolver and the other is Theodosia & the Serpents of Chaos.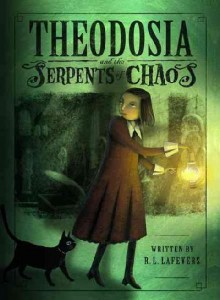 Theodosia and the Serpents of Chaos is written by R.L. LaFevers.  This story is enjoyable but is more of a tween read, or younger.  Theodosia is a precocious young daughter of two archeologists who is able to feel and see ancient Egyptian curses in artifacts.  I am enjoying it thus far, being only on 4 hrs in on an 8 hr read/listen.  The narrator does a pretty good job reading all the different characters with different English voices but her American accent sounds funny to me.  I hope Sidney gets a chance to listen to this and will let me know what she thinks about it.
Flight Behavior has been harder to get into.  The book is read by the author and she proceeds to narrate the characters in a slow Appalachian drawl; the story takes place in the Appalachian area.  So far we've met young wife who is unhappy with her life.  Her family is very poor and they live with her husband's family and have been tied to them for about 10 year.  Neither she nor her husband are terribly happy but neither seems to have had the gumtion to make a change.  She's been having affairs with different men but not seeking a new mate, just looking for fun.  When her in-laws decide to sell the land that would belong to her husband in the long run, she challenges him to fight for his property.  They find Monarch butterflies breeding on the ridge and many feel it is something to do with God so they postpone the sale and logging that had been scheduled.  For some reason that I can't put my finger on, I do not appreciate, fully, these poor, intellectually challenged characters.  I don't have enough sympathy for their plight. I feel bad because I shouldn't be so picky about these fictional characters but I just don't particualarly care for them or several of the bad choices they make.  So I put this on the back-burner for now.
As soon as I finish Theodosia, I'm going to go back to listen more to the Kingsolver book.