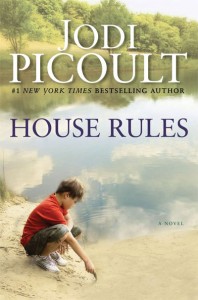 Right now I'm listening to House Rules by Jodi Picoult.  It is the first book I've listened to where I have more than one narrator.  It is interesting and helps me to "know" who I'm listening to at a particular time.  However, I've felt this book is sooo slow.  I was nearly 1/3 of the way through before I started enjoying it.  I was afraid this book would be like the earlier unfavorable book, Pillars of the Earth by Ken Follett (I never really enjoyed that book).
This story is about a boy with Asperger's Syndrome who loves forensic science and who become involved in a murder by apparently trying to cover it up or change it.  The other main characters are those around him, his family, the police and his lawyer.  It has finally become more interesting as we are now viewing the story through all their different perspectives.  I'm now about 1/2 way through the book.
I am reminded from this story that everyone comes into a situation with their own baggage and direction.